Fighting for the
Independent

U.S. Cattle Producer
Join R-CALF USA or Recruit a Member! If you are not a member, please sign up today.
Show Your Support today by purchasing R-CALF USA Merchandise.
Get up to date with R-CALF USA Meetings, Conventions, and Upcoming Event List.
R-CALF USA would like to extend our gratitude to all of the generous sponsors for making our 2017 convention the best ever!
Click here
to view the list of our trade show sponsors and please help us show them appreciation by supporting the businesses that help made the 2017 R-CALF USA Convention and Trade Show a huge success! Don't forget to tell them R-CALF USA sent you! Again, thank you to our sponsors and we look forward to seeing everyone at this year's
Annual Convention and Trade Show in Rapid City, SD August 24 & 25, 2018
.
Details coming soon!
See Sponsors
Latest News
posted under: News Releases on February 14, 2019
Contact: R-CALF USA CEO Bill Bullard Phone: 406-252-2516; r-calfusa@r-calfusa.com Opinion-Editorial by Jay Platt, Arizona Cattleman and R-CALF USA Director Below please find an op-ed by Arizona Rancher and R-CALF USA Director Jay Platt. It is a response to the misguided though heightened focus on ranching as a threat to the environment….
posted under: News Releases on February 6, 2019
For Immediate Release: Contact: R-CALF USA CEO Bill Bullard Phone: 406-252-2516; r-calfusa@r-calfusa.com Billings, Mont.  –  In a letter sent yesterday, Shad Sullivan, Chair of the R-CALF USA Private Property Rights Committee, told Montana ranchers that right now may be their last opportunity to establish an enforceable claim for their water…
posted under: News Releases on January 31, 2019
Op-ed by Bill Bullard, CEO, R-CALF USA At the ongoing National Cattlemen's Beef Association (NCBA) Cattle Industry Convention & Trade Show in New Orleans, CattleFax presented charts purporting to describe the state of the U.S. cattle and beef industries. One chart in particular depicts the U.S. balance of trade for…
Latest Videos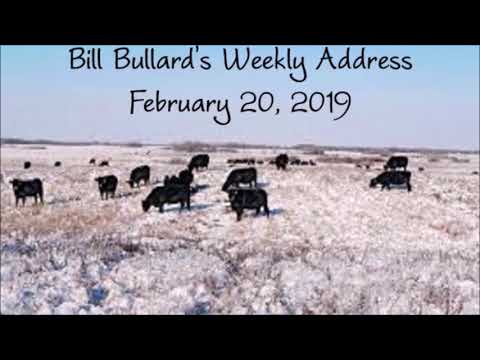 Increased Imports Have Caused A Major U.S. Beef Packing Plant to Close
Thursday, February 21st, 2019 @ 12:45PM
February 20, 2019 – This week Bill provides evidence that increased imports have caused a major U.S. beef packing plant to close.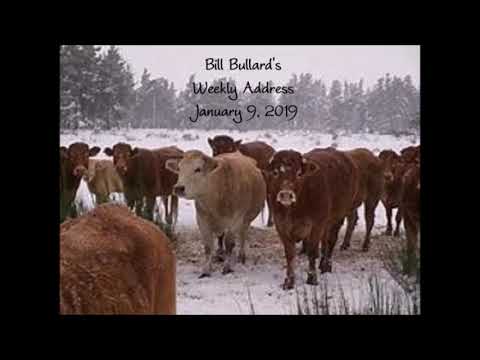 What is the GRSB?
Thursday, February 14th, 2019 @ 1:41PM
February 13, 2019 – This week's segment is a summary of the presentations by Wyoming rancher and attorney Tracy Hunt on the Global Roundtable for Sustainable Beef made during producer meetings last week.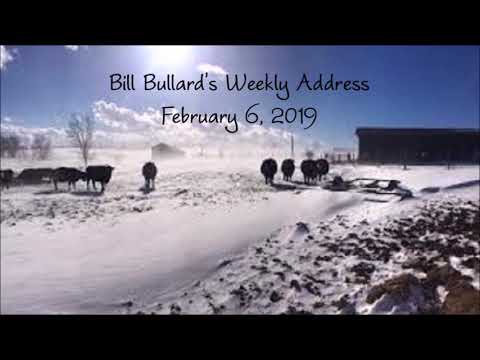 The Voice of the Independent United States Cattle Producer
Thursday, February 7th, 2019 @ 2:01PM
February 6, 2019 – This week Bill talks first about the Feb. 7th and 8th producer meetings in Nebraska and then discusses why the beef industry is not informing U.S. cattle producers about all the imports entering the United States