Fighting for the
Independent

U.S. Cattle Producer
Join R-CALF USA or Recruit a Member! If you are not a member, please sign up today.
Show Your Support today by purchasing R-CALF USA Merchandise.
Get up to date with R-CALF USA Meetings, Conventions, and Upcoming Event List.
R-CALF USA would like to thank all of the generous sponsors for making our 2019 Convention over-the-top successful.
Click here
to view the list of our trade show vendors and convention sponsors and please help us show them appreciation by supporting them! Don't forget to tell them R-CALF USA sent you! We look forward to seeing all of our vendors and sponsors at next year's
Annual Convention and Trade Show in Deadwood, SD August 20 & 21, 2020!
.
Latest News
posted under: Latest News, News Releases on February 27, 2020
For Immediate Release: February 27, 2020 Contact: R-CALF USA CEO Bill Bullard Phone: 406-252-2516; r-calfusa@r-calfusa.com Billings, Mont. – The U.S. Department of Agriculture's (USDA's) Foreign Agricultural Service (FAS) recently reported that the government of Brazil subsidizes Brazilian cattle production to the tune of about $1.2 billion in U.S. dollars. The…
posted under: Latest News, News Releases on February 24, 2020
For Immediate Release: February 24, 2020 Contact: R-CALF USA CEO Bill Bullard Phone: 406-252-2516; r-calfusa@r-calfusa.com Billings, Mont. – R-CALF USA CEO Bill Bullard said today that the Agriculture Secretary's opening the U.S. market to fresh beef imports from Brazil and Namibia, Africa, are deliberate attempts by both the government and…
posted under: Latest News, News Releases on February 20, 2020
For Immediate Release: February 20, 2020 Contact: R-CALF USA CEO Bill Bullard Phone: 406-252-2516; r-calfusa@r-calfusa.com Billings, Mont. – In a formal letter sent today to the Packers and Stockyards Division of the U.S. Department of Agriculture, Agricultural Marketing Service (USDA-AMS), R-CALF USA requests that the agency extend the comment period…
Latest Videos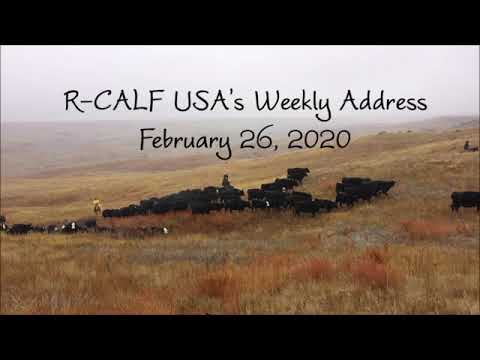 Ramifications of Importing Fresh Beef from Brazil and Africa
Wednesday, February 26th, 2020 @ 11:48AM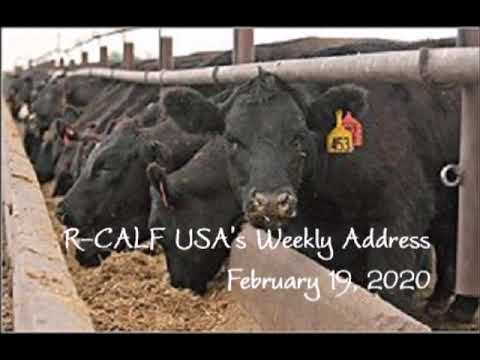 Update on Government's Push for Premises Registration and RFID
Wednesday, February 19th, 2020 @ 4:31PM